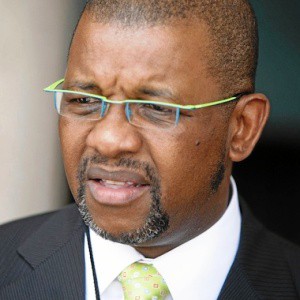 Dali Mpofu part of the EFF's line-up of celebrities
There's a red tide rising across the South African political landscape, and it's none of the usual "red" suspects. This time it is Julius Malema and his band of Economic Freedom Fighters (EFF), and they seem to have become the hottest act in town to join … attracting from Hollywood movie stars to celebrity lawyers.
Theirs is a hard act to follow, and one that must surely have Agang, the Democratic Alliance, the Congress of the People and other wannabe governing parties choking on their dull, mainstream morning eggs.
In South Africa there are three kinds of politics: the politics of serious mainstream political parties; the populist politics of bling and noise; and the protest politics outside "the system." Malema's EFF is in the second category, trying to win the support of the third category.
In this equation the serious mainstream politics is rather dull and boring, failing to attract the kind of media hype that the noise- and bling-type does. Just compare the media attention Agang attracts versus the EFF.
And, a solid stream of media reports would have us believe that Malema and the EFF are steadily capturing the imagination and support of a growing slice of the youth and the poor. On Facebook they have already attracted over 56,000 likes.
However, in the end election-day success depends on sound grassroots organisation and foot slogging. The proof will be in the eating but the pudding is still far from going into the oven.
Nonetheless, every time the EFF's red-clad "economic soldiers" are attacked by rivals, chased off campuses, stopped by police road blocks, have their assets attached, are investigated for corruption or are ridiculed in the media over stupendous statements and demands, it generates ever more publicity. Had they been a television show, their Nielsen ratings would be soaring.
And regularly, it seems, more high rollers join the show at the top end, lending it an air of dazzle and even consumerist respectability. It provides a stage full of icons to which the downtrodden masses making up the party's cannon fodder may aspire. Despite the apparent contradiction between bling and poverty, it might well deliver some results.
Celebrities
Among those who have recently flocked to Malema's court are; celebrity ex-convict and nightclub owner Kenny Kunene, although he has since stepped down as head of campaigns and special projects for "personal reasons;" Fana Mokoena, movie actor known for his roles in Hotel Rwanda, more recently alongside Brad Pitt in World War Z, and in the soapie Generations, who is now on the EFF's "central command team" as commissar for arts, culture and heritage; and Advocate Dali Mpofu, who resigned from the ANC after 33 years to join the EFF, previously represented Malema in an ANC-internal disciplinary hearing and is currently representing the families of victims at the Marikana enquiry.
According to a news report, being circulated on the internet, even Hollywood actress Charlize Theron supports Malema's political endeavours, although the authenticity of the report could not been confirmed.
Nonetheless, the question remains: is the EFF mere farce, a passing show, or will it make a serious, lasting or even game-changing impression?
Identity
The EFF has a somewhat schizophrenic identity. There is a substantial gulf between what it purports to stand for and where it seeks its main support on the one hand, and the lifestyles and behaviour of its leaders and high-profile members on the other.
Its policy proposals may, on the surface, put the party in the progressive socialist realm. These include expropriating white-owned land without compensation for redistributing to blacks; nationalisation of mines, banks and other key sectors of the economy; free education, healthcare, houses, and sanitation; and "massive" protected industrial development "to create millions of sustainable jobs" with guaranteed minimum wages in all sectors, among other things.
On its web and Facebook sites the EFF describes itself as "a Marxist-Leninist Fanonian economic emancipation movement, which fights for the economic rights of all Africans". Apart from the fact that the respected African revolutionary and intellectual Frantz Fanon is probably turning in his grave over such abuse of his name, the EFF is far from being what it claims.
Close scrutiny of its various websites, documents and statements by its leading figures reveals a party based on a cocktail of ideological and political traits, methods and postures that include Marxist socialism, right wing fascism, statist authoritarianism, militarism, pan-Africanism and and a number of other isms.
All of this is brazenly spread around in true populist fashion by some of its key figures.
To advance the cause of Malema and his fellow EFF leaders, a constituency was required once they were kicked out of the ANC. This they found in Marikana, with the tragic events there last year coming as a godsend.
In an analysis published by The South African Civil Society Information Service, Rhodes University political scientist Richard Pithouse says: "Julius Malema's charisma and notoriety, and the EFF's connection to the struggle in Marikana, which has given the party some real political weight, has enabled the party to achieve significant media access and some political traction."
But he goes on to say: "Malema did not step into the EFF from a sustained commitment to popular struggle. His politics is that of an authoritarian man at the helm of a party state and not that of a mobilised citizenry. He aspires to concentrate power in the state rather than to disperse it to the people."
Greater depth
The EFF has nonetheless come quite far from when Malema and company were still running the ANC Youth League (ANCYL) as their personal fiefdom. It has found greater depth and maturity in articulating its ideas compared to the ill articulated sloganeering from Floyd Shivambu as ANCYL spokesman in statements riddled with grammatical flaws and spelling mistakes.
This stems from the EFF and its backers bringing in fresh blood in the form of experienced strategists, communicators, organisers and more. These include EFF commissar "Dad" Mpho Ramakatsa, a former Umkhonto we Sizwe and ANC member, who as national coordinator helps with organisation, strategic direction and discipline; writer, black consciousness thinker, organiser and commentator Andile Mngxitama, who is handling international relations; and Mbuyiseni Ndlozi, a fiery anti-Israel activist and internationalist, intellectual and current PhD as new spokesman.
All of this adds up to make the EFF very attractive to high-profilers and celebrities, for whatever reasons and agendas they may have, and vice versa.
Not wishing to join the ranks of crystal ball gazers currently making widely differing predictions of how many parliamentary seats or what percentage of the vote Malema and the EFF will win, suffice it to say that most or all of the ingredients are there to make it work for them.
They have strong media exposure; substantial funding seems to be available; they have a popular message that resonates well with their target audience; they have a very large, long-suffering and disgruntled target constituency seeking a better deal; and they have clever, successful and popular icons shining the torch for them.
But, whether they have the ground level organisational clout to put it all together in a way that will translate into votes on election day, remains to be seen. In the meantime they cannot be ignored.
Follow us on Twitter
|
Like us on Facebook