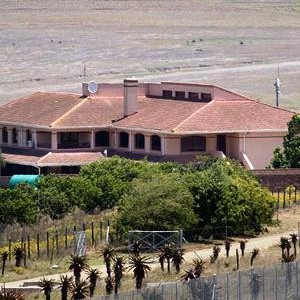 Qunu where R28,2m was spent compared to Nkandla's R200m plus
All the details are not known yet but Public Protector Thuli Madonsela is on record that president Jacob Zuma was personally involved in the upgrade at his private residence at Nkandla. A previous state president also got himself involved, with dramatically different results.
More than 20 years ago a personal friend told me how it came about that his holiday home at Hermanus on the Western Cape coast, which bordered on the property of then state president F.W. de Klerk, was bought by the department of public works.
After he was elected to the position of state president, Mr. De Klerk was informed by the department that they will have to commission some alterations to his private home to, amongst others, accommodate security and other personnel. He asked that plans should be submitted to him before any work commence.
When presented with the plans, De Klerk enquired about the costs involved and what happens when he is no longer president. Given the cost and informed that the "upgrade" was essential, normal practice and one of the "hidden perks" of his new position, he informed officials of his discomfort with the situation and reluctance to have the state spend a substantial amount on his private property.
He instructed the officials to first approach those neighbours in Hermanus with properties bordering on his own to ascertain whether one of them might we willing to sell it to state to ensure that what is spent to accommodate his new position, remains the property of the state even when he leaves office.
And, that is how it came about that the home of my friend at Hermanus became, and to this day remains to be, the property of the state.
Not wanting to involve him directly in the present controversy around Nkandla, it has to be stated for the record that Mr. De Klerk was not personally approached to confirm this information. However, independent and reliable sources have confirmed the accuracy of the information.
Sadly, Mr. De Klerk's good intentions in the end did not come to full fruition. Further enquiries have brought to light that, the home belonging to the state in Hermanus, is today more-or-less abandoned and in a state of dereliction.
Other presidents
According to an answer by former public works minister Geoff Doidge in 2010 to a parliamentary question, the cost of the Nkandla upgrade would have been R6.4m. If it stayed at that figure, it would have compared favourably to what happened to the private residences of his to predecessors after 1994.
In the case of President Nelson Mandela the public works department ­budgeted R28.2m for security upgrades to his Qunu home in the Eastern Cape. And, president Zuma's immediate predecessor, Thabo Mbeki received a R3.5m security upgrade to his private house when he left office.
But the cost of the Nkandla upgrade, after the involvement of Mr. Zuma's private architect, escalated to no less than more than R200 million over two years. That is more than seven times the spend at Qunu and more than 57 times what was spent on Mr. Mbeki's home.
Adv. Madonsela's full report has not yet been made public but from what is already in the public domain it is known that it is claimed that the security upgrade alone at Nkandla cost more than R45 million.
Ironically at the time when the very security conscious Mr. P.W. Botha became head of government and the African National Congress' "armed struggle" was at its height, only two security "upgrades" took place at his private home a Knysna: The wooden, Wendy House-type, guard house at the entrance to the property was replaced with a permanent brick and mortar structure and the security fence at the back of the property, where it bordered on a public road, was upgraded.
A wing to the Botha's home they previously had built themselves to house visiting friends and family, was used to accommodate the additional staff that came with the position.
It is, at time of writing, not known whether Adv. Madonsela has made any finding as to any possible improper conduct by Mr. Zuma in the whole Nkandla-saga. Measured against what has happened in the past however, the message about his judgement seems to be clear.
Follow us on Twitter
|
Like us on Facebook