Keep your valuables secure with this ingenious hardback book-lookalike safe.
Not only does it keep your valuables under lock and key, but with it will appear as just another book on your shelf, not worth a second look by an intruder looking for those valuables!
Use this Homesafe Book Safe to store and protect valuables in plain sight as it blends in perfectly with the other heavy reads surrounding it.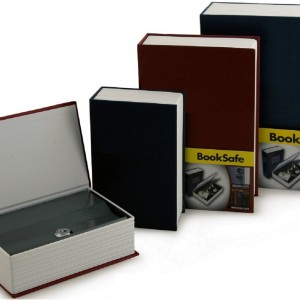 But, while it blends in on any bookshelf, when you open it, it reveals a lockable study lockable steel safe for storing from cash, credit cards, jewelry to even important account numbers and passwords.
There's ample room for folded documents such as insurance papers, deeds or birth certificates.
Our offer includes an extra key.
By the way, it is so a handy, safe and easy place to remember place, to leave things overnight. Never again will you have to go searching the house first thing in the morning having forgotten where you left your keys and wallet. Now you can simply put them in the Book Safe and you'll always remember. It really is the last word in book smart!
Great for:
Concealing a handgun for home defense
Securely storing private documents
Hiding a stash of cash
Storing other small valuables
Features:
Sturdy construction
Perfect book lookalike design
2 keys supplied
Construction: Metal construction
AVAILABLE SIZES
Standard Book Sizes
(Clikc on the image to enlarge)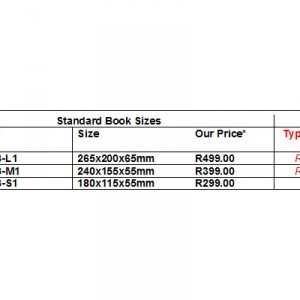 ·
Excluding delivery cost, which will not exceed R120
To order, click here and we will deliver.
Follow us on Twitter
|
Like us on Facebook